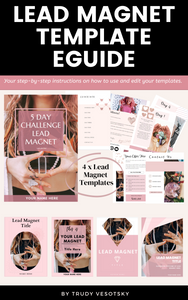 Holistic Psychology
Lead Magnet Templates
Regular price
$66.00
$0.00
ON SALE, SO BE QUICK! 
YOU CAN BE CREATING YOUR LEAD MAGNET IN MINUTES AND BUILDING YOUR EMAIL LIST!
Attention all marketers and business owners!
Are you struggling to create lead magnets quickly and easily? Do you want to build your email list without spending hours designing your own lead magnets from scratch? 
Introducing our 4 lead magnet template bundle, fully customisable using Canva! With these templates, you can create stunning lead magnets in just minutes, without any design skills.
This is perfect for anyone with expertise and knowledge that is ready to get into the $500 billion dollar online education space and turn their skills into digital products!
WHY LEAD MAGNETS ARE IMPORTANT?
But why are lead magnets so important for email list building? Well, it's simple. Lead magnets are the perfect way to attract your ideal customers and capture their contact information. By offering valuable content that solves their problems or answers their questions, you can build trust and establish yourself as an authority in your niche.
And with our 4 lead magnet templates, you'll have everything you need to create a variety of lead magnets that your audience will love. Whether it's a free guide, checklist, e-book, or worksheet, our templates make it easy to create professional-looking lead magnets that will help you grow your email list and your business. You can use these Canva templates and offer as a freebie, paid digital product or printed and sold as a physical product
So why wait? Get our 4 lead magnet template bundle today and start creating lead magnets that convert!
All you need is a Canva account (free or pro) from canva.com, you simply drag and drop some images, write up some content, and you have a lead magnet ready to offer to prospective clients! 
Watch the video below and have a look at what's inside
WHAT YOU RECEIVE
You will receive: 
CANVA TEMPLATE 1 -

14 page - Checklist Style

CANVA TEMPLATE 2 - 

20 pages - Question Style

CANVA TEMPLATE 3 -  

10 page - General e-book Style

CANVA TEMPLATE 4 - 

16 page - 5-Day Challenge

A complete e-Guide Instruction book with step-by-step instructions
Videos showing you how to edit and more!
Both A4 and US document sizes for each lead magnet. 
BONUS VIDEO TRAINING
6 Series Video Training Included
All our templates come with step-by-step video tutorials, so you can follow along and get started on building your digital product collection.
Video 1 - How to use template, make a copy, use grid view - 12 minutes
Video 2 - How to use Canva photos and upload your own photos - 13 minutes
Video 3 - How to change colours in 1 click, change background colours - 11 minutes
Video 4 - How to change font styles and sizes - 10 minutes
Video 5 - How to add URL inks to your PDF files - 13 minutes
Video 6 - How to download different file options (e.g. PDF, presentation) - 13 minutes formats
INSTRUCTIONS: 
1. Add this DIGITAL item to your cart. 
2. Press checkout and complete the required details. 
3. You will receive a downloadable e-Guide Instructions PDF immediately, and you will also receive an email with the download link in case you didn't download immediately.
4. Open the PDF file and follow instructions on how to open your Canva template and edit, create your lead magnet, and then get ready to offer to clients. 
NOTE: Downloads are best performed on a laptop, PC device, however most mobile phones have PDF reader nowadays. 
IMMEDIATE DOWNLOAD
As soon as you check out, you will be able to download immediately, so you can start creating your lead magnets so easily and quickly!
These Canva templates are © TV Holistic Psychology. You may not distribute or resell these Canva templates in whole or part. You can share your final designs through your website, email list, or social media accounts and giveaway or sell, but the customisable Canva templates (even if modified) cannot be re-sold, redistributed, or claimed as your own templates.
WANT TO CREATE YOUR OWN RANGE OF DIGITAL PRODUCTS, INCLUDING E-BOOKS AND ONLINE COURSES? 
Our signature program SOLD OUT, both 2022 and 2023 intakes, but you can either a) enrol in the self paces study option or b) enrol in next year's 8-Week Coaching Program. Either way, you get access to the training materials immediately along with 30+ Canva templates! 
ABOUT THE TRAINER
Your Workshop trainer Trudy Vesotsky has been studying, practising and teaching on the subject of Holistic Behavioural Psychology, Personal Development and Business Coaching for the last two decades. 
Her first physical book and E-Book was published in 2009, and she has run over 100 topics in face to face workshops, so she has a lot of knowledge and skills to share with you. 
She has created over 180 digital products and online courses and her NEW Signature course sold out for both 2022 and 2023 intakes so if you are ready to Create and Sell Digital Products and Online Courses click the link below
https://tvholisticpsychology.learnworlds.com/course/digital-productscourse 
---
Share this Product
---
More from this collection