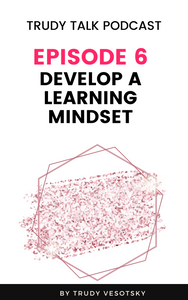 Holistic Psychology
Trudy Talk Podcast - Episode 6 - Developing a Learning Mindset
Regular price
$0.00
$0.00
Grab a notepad and pen and listen to this podcast episode where we discuss more about our final foundation for personal growth which is Developing a Learning Spirit/Mindset.
In this episode we discuss the ability to embrace by a learning spirit so that you are open to experiencing new ideas, thoughts with a spirit of open mindedness.
 Some areas we cover are:
    Practice Humility
    Learn to actively listen
    Be Open Minded
    Be open to experience
    Be willing to make mistakes
    Be willing to apologise
    Be willing to experience change
    Encourage self honesty and external
    Check in on yourself, your behaviours and your mannerisms
FREE WORKSHEETS
Feel free to grab our FREE Worksheets or download the podcast episodes from our website at tinyurl.com/freestuff
FREE BUSINESS ENTREPRENEUR FACEBOOK GROUP 
If you would like to join a cool space for creatives come join the FREE FB Group. 
We have over 50 FREE video tutorials inside along with a friendly and supportive community from all over the globe ready and happy to cheer you along. 
Please be sure to answer all questions requested or you request to join may not be approved. 
Click this link below to join https://www.facebook.com/groups/getonlinebusiness
COME JOIN US ON SOCIAL MEDIA
We love to hear your success stories so please feel free to Click the link below to join us on Instagram.
https://www.instagram.com/holisticpsychologytv
Much love and go get those dreams of yours and turn them into Reality!
Enjoy x
---
Share this Product
---
More from this collection