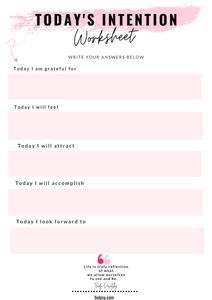 Holistic Psychology
Intention Worksheet
Regular price
$0.00
$0.00
How many times have you woken up with good intentions but then somehow been distratced by what is going on outside of you? 
if you do not yet have a routine, ritual, schedule that supports you in achieving your outcomes by maintaining a focused solution mindset then you will enjoy filling in this sheet each morning. 
This Today's Intention Worksheet has been designed to work as a valuable tool for you to get clear on how you will go about your day which ultimately assists you in being one step closer to achieving your amazing goals and realising your well deserved dreams.
If you haven't yet done so, also download the other worksheets and Action Plan as these easy to use documents work hand in hand.
Print this ou, or why not type straight into it. Use it daily and remain focused on achieving your goals! 
Come back soon and also check out our other FREE Worksheets and Podcast episodes that guide you on moving away from fear and limitations and back into your personal power and ultimate success!
FREE FACEBOOK GROUP
If you would like to join a cool space for creatives come join the FREE FB Launch and Grow Your Online Business Group. 
We have over 5+ hours of FREE video tutorials inside along with a friendly and supportive community from all over the globe ready and happy to cheer you along. 
Please be sure to answer all questions requested or you request to join may not be approved. 
Click the link below and see you in there https://www.facebook.com/groups/launchandgrowyouronlinebusiness
COME JOIN US ON SOCIAL MEDIA
We love to hear your success stories so please feel free to Click the link below to join us at the Goal Guru on Instagram.
https://www.instagram.com/holisticpsychologytv
Much love and go get those dreams of yours and turn them into Reality!
The Holistic Psychology Team
---
Share this Product
---
More from this collection