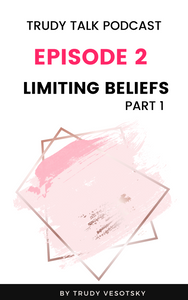 Holistic Psychology
Trudy Talk Podcast - Episode 2 - Limiting Beliefs - Grab your FREE worksheet
Regular price
$0.00
$0.00
Do any of these limiting beliefs below resonate with you? Grab a notepad and pen and then head to the FREE worksheets tab and grab your FREE Limiting Belief worksheet and come back for Episode 3.
    Sometimes in life we need to suffer before we can enjoy happiness.
    I should be farther along than I am.
    I'd better not be too happy, or I'll just have further to fall down when the joy ends.
    You have to have money to make money
    I must not boast about my success.
    I run away when things get tough.
    I cannot make my decisions without other people's approval. I have to say yes to everyone
    I have to do everything myself.
    I must be perfect in everything I do.
Go grab the next episode where we cover more on the topic of more about Limiting Beliefs and Fear.


FREE BUSINESS ENTREPRENEUR FACEBOOK GROUP 
If you would like to join a cool space for creatives come join the FREE FB Group. 
We have over 50 FREE video tutorials inside along with a friendly and supportive community from all over the globe ready and happy to cheer you along. 
Please be sure to answer all questions requested or you request to join may not be approved. 
Click this link below to join https://www.facebook.com/groups/getonlinebusiness
COME JOIN US ON SOCIAL MEDIA
We love to hear your success stories so please feel free to Click the link below to join us on Instagram.
https://www.instagram.com/holisticpsychologytv
Much love and go get those dreams of yours and turn them into Reality!
Enjoy x
---
Share this Product
---
More from this collection