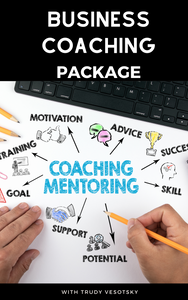 Holistic Psychology
Business Coaching/Mentoring Package
Regular price
$3,033.00
$0.00
Business Coaching/Mentoring Package
The package includes:
Pre Session Questionaire
A questionnaire must be completed prior to acceptance as a client. We want to make sure that we are the best fit for you.  
Initial 30 minute Assessment Call
This assessment call is conducted before your first coaching call so that we can discuss every aspect about you and your business and develop your coaching plan.
5 (45 minute) Private 1:1 Coaching Calls
You will receive 5 private coaching calls (plus 15 minute follow up calls) over the course of 3 months. Each session will be customised to reach your business/personal goals.
You will be provided with homework and guidance after each session so that you have specific action to take afterwards, with the aim of propelling you towards personal and business success.
Trainings & Resources
We provide you any supplementary trainings, webinars, worksheets, workbooks, templates, and tutorials that we feel will be of great assistance to you throughout the duration of the program.
Recorded Coaching Sessions
Our coaching sessions will be recorded and sent to you so that you have access to everything that we discussed and have the ability to go back and review our session as needed.
Price: $4,500 (AUD) 
Payment plans are available.
Please enquire by using the contact form or email to holpsy@holpsy.com and we will email to you a pre-session questionnaire to return and complete for assessment. 
NOTE:  Please do not make payment for this coaching package unless you have completed and returned your pre session questionnaire and have been formally accepted as a coaching client.  
---
Share this Product
---
More from this collection