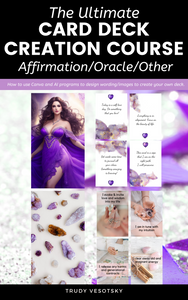 Holistic Psychology
The Ultimate Card Deck Creation Course - In Person Workshop
Regular price
$335.00
$0.00
Everything you need to easily get inspired to design your deck cards  using Canva. 
How often have you made an amazing comment, quote or affirmation to someone and never done anything else with it? 
Want to learn how to make y our own oracle, affirmation, educational or inspirational cards?
This valuable information needs to get out there to the global population. 
You have within you the ability to create a deck of beautiful cards that will inspire, educate and positively impact people's lives.
This DIY workshop will show you all that you need to be able to design and sell your card decks.
You might like to sell them as a digital copy (people print themselves) or we will also give you some tips on getting your cards printed, so you can also sell as a physical product. 
So, we invite you to come on a journey of creating a card deck (possibly one of many card decks!). 
Some of you might like to create; 
Affirmation cards
Oracle cards
Inspiration cards (quotes etc)
Wisdom cards
Divination cards
Bible cards
Rune cards
Guidance/Angel cards
Crystal meaning cards
Essential oil cards
Positive vibes cards
Health check in cards
Life coaching cards
I-Ching cards
Education cards - Yoga cards, Exercise routine cards
Astrology/numerology
Colour therapy
Children's Positive Word cards
and anything else that you desire. Allow your imagination to guide you.  The card possibilities are endless!
RANGE OF CARD CATEGORIES 
We will be sharing some definitions on the following categories in this training; 
Affirmation 
Divination 
Inspiration
Religion
Guidance
Miscellaneous/Educational
CARD DECKS ARE POWERFUL
Whether you offer affirmation cards, inspiration cards or bible verses with short sentences, phrases or images, they all can guide people towards creating positive thoughts and action.
The idea of using cards has tremendous opportunity to empower and enlighten the card reader as well as well ass placing them in a space to create a more positive reality.
There are many different types of card categories, and they can be used to guide, instruct, probe or educate. 
In essence, you are offering people something extremely important that can positively shape their lives! How good is that!
THIS IS AN IN PERSON TRAINING PROGRAM
This is an online training program, but we will invite you to share your amazing creations inside our FB group!
You might find your audience inside, and you might also inspire someone to create their own deck of cards!
4-HOUR TRAINING 
Bring your laptop device, and your creativity and during this session you will learn all that you need to design your card deck. 
This is an abridged version of the online training program. You can read more about the Online Training at the link below
https://my.holpsy.com/products/how-to-design-print-and-sell-your-own-set-of-affirmation-cards?variant=40318078386313
In this session, we will get straight into designing.
We will cover: 
SECTION 1 -   DESIGNING YOUR CARDS (CONCEPTUAL/PRACTICAL)
Types of card decks
A look inside some sample ideas and designs
Text and Artwork (symbols, graphics, images etc)
Purpose of your card deck
Number Of Cards
Image Selection and Options
SECTION 2  -   CREATING YOUR CARDS IN CANVA
Introduction to Canva
How to use and edit templates
Use inbuilt elements and photos
Uploading your own art designs, photos, etc
Edit, proofread and test card design
Use of fonts and graphics for aesthetics
SECTION 3  -  AN OVERVIEW OF CREATING AN INSTRUCTION GUIDE
Different printing ideas
An overview of designing your instruction e-Guide using templates provided
How to add URL links into your Instruction e-Guide

SECTION 4  -  GENERAL INFORMATION
Places that you can sell your card decks
Consider future card deck creations
Turn your card deck into online courses and other digital products
+ BONUSES
Trudy's personal Canva Oracle/Affirmation card templates in 3 sizes
Instruction Booklet/e-Guide template in 2 sizes
NEW BONUS MODULE - How to use Canva and AI to create scripts and images to enhance your card decks. Making it so easy to create not just one deck, but many!
By the conclusion of this workshop, you shall have yourself set up the knowledge and skills to complete your card deck ready to print or sell as a digital product. You will also have the necessary skills to add an e-Guide/Instruction booklet to add to your deck (optional). 
Please note that this training is based on using desktop to create your cards, and various changes may be required to create on iPad/Phone devices. 
BONUSES:
1. Canva Card templates 
You will be provided with 2 different size Canva template card layouts to use. 
2. Mini e-Guide/instruction template
You will be provided with 1 Canva mini e-Guide in two different sizes. 
EXTRA BONUS:
1. How to use Canva and AI programs to add scripts/words and create images to make your cards even more amazing! 
ABOUT THE TRAINER
Your Workshop trainer Trudy Vesotsky has been studying, practising and teaching on the subject of Holistic Behavioural Psychology, Personal Development and Business Coaching for the last two decades. 
Her first physical book and E-Book was published in 2009, and she has run over 200 topics in face to face workshops, so she has a lot of knowledge and skills to share with you. 
She has created 100+ digital products and online courses and her NEW Signature course sold out for both 2022 and 2023 intakes so if you are ready to Create and Sell Digital Products and Online Courses click the link below
https://tvholisticpsychology.learnworlds.com/course/digital-productscourse 
---
Share this Product
---
More from this collection