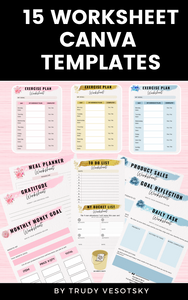 Holistic Psychology
15 Worksheet Canva Templates
Regular price
$5.00
Sale price
$19.00
Ever wished you could create professional looking
worksheets and checklists
that will support your audience, build yourself a passive income… but not sure where to start?
You will receive 15 different worksheet/checklist designs. 
These 1-page 
worksheets/checklist
have been created in Canva and using them is the quickest way to get these products onto your website/ecommerce platform quickly, making sales and supporting your clients. 
You will receive all 15 designs, in all 3 colours. You can edit it, add your logo, rebrand it and sell them or give them away (perfect lead magnet ideas)! 
These 
templates
 were created in Canva and are one of the quickest ways to get your lead magnet offer finished quickly and easily.  
Our founder Trudy creates e-books, planners, journals, online trainings in less than an hour using the templates in this collection, and you can easily repurpose your content to create quick lead magnets and eventually create a range of amazing digital products to sell. 

WHAT'S INCLUDED
Included in your
easy-to-use 15-page Worksheets/Checklist, 
Canva template:
• 3 different colour themes (blush, blue, gold). 
• 
15 different worksheet/checklist designs. 
• 
Provided in both A4 and US document sizes. 
COLOUR THEMES SHOWN BELOW
IMMEDIATE DOWNLOAD


As soon as you make payment, you will get immediate download, so you can start editing TODAY and giving away or selling your worksheets straight away!
INSTRUCTIONS: 

1. Add this item to your cart. 
2. Press checkout and complete the required details. 
3. Your item/s will download instantly (depending on your internet speed). You will also receive an email with the download link in case you didn't download immediately. Downloads are best performed on a laptop, PC device, however most mobile phones have PDF reader nowadays. 
4. Open the PDF file and follow instructions on how to open your Canva template and edit, modify and then start getting them to your clients. 
These Canva templates are © TV Holistic Psychology. You may not distribute or resell these Canva templates in whole or part. You can share your final designs through your website, email list, or social media accounts and giveaway or sell, but the customisable Canva templates (even if modified) cannot be re-sold, redistributed, or claimed as your own templates.
WANT TO CREATE YOUR OWN RANGE OF DIGITAL PRODUCTS, INCLUDING E-BOOKS AND ONLINE COURSES? 

Our signature program opens two times a year and given that our June and October 2022 program SOLD OUT, we expect the same to happen for our 2023 intakes.
ABOUT THE TRAINER
Your Workshop trainer Trudy Vesotsky has been studying, practising and teaching on the subject of Holistic Behavioural Psychology, Personal Development and Business Coaching for the last two decades. 
Her first physical book and E-Book was published in 2009, and she has run over 100 topics in face to face workshops, so she has a lot of knowledge and skills to share with you. 
She has created over 180 digital products and online courses and her NEW Signature course sold out for both 2022 intakes so if you are ready to Create and Sell Digital Products and Online Courses click the link below
https://tvholisticpsychology.learnworlds.com/course/digital-productscourse 
SPECIAL LIMITED TIME OFFER
** It was Trudy's (your trainers) birthday in February, so we also have a LIMITED TIME SPECIAL 80% OFF discount coupon code for our next intake 8-week program or self study option, type in the words 2023offer into the coupon area and save over $2000!**
FREE GROUP ON FACEBOOK

If you would like to join a cool space for creatives, come join the FREE FB Group. 
We have over 5+ hours of FREE video tutorials inside, along with a friendly and supportive community from all over the globe ready and happy to cheer you along. 
Please be sure to answer all questions requested, or your request to join may not be approved. 
Click this link below to join https://www.facebook.com/groups/canvaclub/
---
Share this Product
---
More from this collection