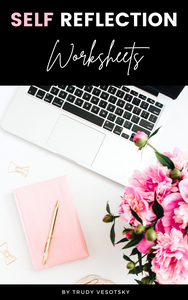 Holistic Psychology
Self Reflection Worksheets
Regular price
$0.00
$0.00
The best way to plan for a successful 2023 year is to reflect on your 2022 year!
These Self Reflection Worksheets are an extract of my Goal Setting workshop and have been designed to work as a valuable tool to reflect on the past and ultimately assist you in getting clearer on plans to achieve your amazing goals and realise your well deserved dreams.
BONUS: We also have a bonus free video that you can watch at the following link so be sure to download your worksheets and then head there to watch the supporting video.
Click here >> https://www.youtube.com/watch?v=V292yS_4UWU
If you haven't yet done so, also download the FREE Financial Goal Setting worksheet and Action Plan as these easy to use documents work hand in hand.
INSTRUCTIONS: 
1. Add this item to your cart. You can also add all the free items to the same cart. 
2. Press checkout and complete the required details. 
3. Your item/s will download instantly (depending on your internet speed). You will also receive an email with the download link in case you didn't download immediately. Downloads are best performed on a laptop, PC device, however most mobile phones have PDF reader nowadays. 
4. You can print this sheet out and write into it or type direct into the document boxes, how easy is that!
Also check out our other FREE Worksheets and Podcast episodes that guide you on moving away from fear and limitations and back into your personal power and ultimate success!
ABOUT THE AUTHOR
Your Workshop trainer Trudy Vesotsky has been studying, practising and teaching on the subject of Holistic Behavioural Psychology, Personal Development and Business Coaching for the last two decades. 
Her first physical book and E-Book was published in 2009, and she has run over 100 topics in face to face workshops, so she has a lot of knowledge and skills to share with you. 
She has created over 180 digital products and online courses and her NEW Signature course sold out for both 2022 intakes so if you are ready to Create and Sell Digital Products and Online Courses click the link below
https://tvholisticpsychology.learnworlds.com/courses
SPECIAL LIMITED TIME OFFER
** It was Trudy's (your trainers) birthday in February, so we also have a LIMITED TIME SPECIAL 80% OFF discount coupon code for our next intake 8-week program or self study option, type in the words 2023offer into the coupon area and save over $2000!**
FREE GROUP ON FACEBOOK

If you would like to join a cool space for creatives, come join the FREE FB Group. 
We have over 5+ hours of FREE video tutorials inside, along with a friendly and supportive community from all over the globe ready and happy to cheer you along. 
Please be sure to answer all questions requested, or your request to join may not be approved. 
Click this link below to join https://www.facebook.com/groups/canvaclub/
---
Share this Product
---
More from this collection