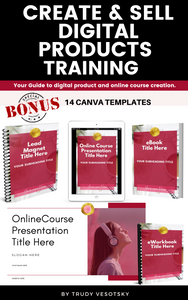 LearnWorlds
Create & Sell Digital Products Online Training and Coaching - February 2024 Intake
Regular price
$2,020.00
$0.00
This program offers you 8 weeks of training, with includes Q & A and live coaching with Trudy, expert interviews on topics including marketing, funnels and more, and a private FB group community to cheer each other on to get this done! 
You also receive 40+ Canva templates and will learn how to create:
Lead magnet (you get access to 4 templates)
Ebook 

(you get access to one 100+ page template)

Online Course Presentation/Webinar 

(you get access to one 80+ page template)

Course Certificate (your students will love it!)

Course Workbook

(you get access to one 100+ page template)

20+ Social Media Promotion templates in FB, Instagram and story sizes
OUR JUNE AND OCTOBER 2022 and APRIL 2023 PROGRAMS SOLD OUT!
So be quick to book your spot for the next intake. 
Click the link below to find out more, watch video testimonials and make payment for this program. 
https://tvholisticpsychology.learnworlds.com/course/digital-productscourse 
COURSE TRAINING DETAILS 
Purchasing this program is for the 10th February 2024 Program. 
1 Week prior to the above date, you will be provided with a log in link to enter the private FB group. 
You will however gain immediate access to your training, all templates and expert interviews once you enrol in this program so you can get started and be ready for your 8-week coaching into the next available intake (10th February 2024). 
At this stage we are only hosting this training and coaching program 1 times in 2024, yes that is only one intake so be sure to get onto it!.   
Be sure to book your spot as last 3 intakes SOLD OUT!
Have a look at some of our past student digital products that they created in previous intakes. 
SELF-STUDY OPTION
You can also purchase our self-paced study option if you do not want to be involved in the add the 8-week coaching program. Some people work great on their own. Click this link below for self-paced study option, enrol and gain immediate access. 
https://tvholisticpsychology.learnworlds.com/course/self-study-program 
INSTALMENT PLANS
Email to holpsy@holpsy.com, and we will happily set you up with an instalment plan. 
ABOUT YOUR TRAINER

Your Workshop trainer Trudy Vesotsky has been studying, practising and teaching on the subject of Holistic Behavioural Psychology, Personal Development and Business Coaching for the last two decades. 
Her first physical book was published in 2009 and included an accompanying E-Book that she created which included fillable forms, and an embedded meditation. 
She has created 100+ digital products part-time in 16 months, including 20+ e-books, 35 online training courses. 
She had much success with this and has decided it's time to show you how easy it is!
This 8-week program will be an exhilarating journey and if you haven't met Trudy yet, you will so find out that she is your biggest cheerleader and will support you with everything you need to get your digital products online as easily and as quickly as possible. 
NOTE: 

No refunds are provided for this course. If you are unable to attend and wish to complete the training, you will be offered an opportunity to undertake the training as self-paced learning in our training platform, however this will not include coaching support. 
CONTACT US
For further enquiries, please email to holpsy@holpsy.com with clear details about your question/s, and we will get back to you. 
---
Share this Product
---
More from this collection