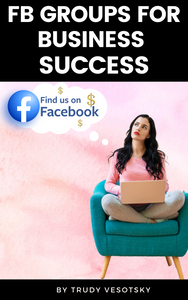 Holistic Psychology
Grow Your Business with Facebook Groups
Regular price
$201.00
$0.00
One of the fastest-growing and best-kept secrets in the digital marketing world for increased business success and sales is active, engaged Facebook groups.
Are you a business professional looking to leverage the power of Facebook groups to connect with your audience, establish your expertise, and get sales?
Look no further!
Introducing: "Mastering Facebook Groups for Business Success!"
Our comprehensive workshop, "Facebook Groups for Business," is here to guide you every step of the way.
UNLOCK THE POTENTIAL OF FB GROUPS
In today's digital landscape, Facebook groups have emerged as a game-changer for businesses, offering a dynamic platform to foster communities, share valuable insights, and skyrocket your brand's visibility. Our workshop will empower you to harness this potential and build a thriving Facebook group that propels your business forward.
WHAT'S THE DIFFERENCE BETWEEN A FB PAGE AND GROUP?
So let's clarify the difference. 
A Facebook page is an official profile of your business, while a Facebook group is a place where people discuss and share their passion for similar interests, learn from the group owner and or interact with each other.
WANT TO KNOW HOW MANY PEOPLE USE FACEBOOK GROUPS?
According to latest current data, over 2.4 billion people use Facebook! 
There is an average of 1.62 Billion users on average visit Facebook every day. 
400 users sign up to Facebook every minute. 
In that same minute, more than 510,000 comments are made, there are 293,000 status updates, 136,000 photos are uploaded, and a whopping 4 million posts are liked. 
There are currently more than 620 million Facebook groups, and these are growing daily. 
I've consistently maintained an online Facebook community, and over the past 12 months, I've discovered amazing ways to leverage Facebook groups to achieve the following:
Broaden my professional connections and expand my network.
Boost my organic reach on Facebook.
Cultivate an active and enthusiastic audience that is eager to make purchases.
Utilise FB messenger chat as a new sales channel for my products.
Garner exceptional testimonials and reviews, providing solid proof of the quality of my brand and business.
Generate an increased number of $$ sales.
Add a substantial amount of contacts to my marketing list.
By employing these strategies, Facebook groups have become an invaluable asset to my online presence and business growth.
When you create a FB group, you can connect with customers and supporters in a more private forum and have authentic conversations around a common interest related to your business.
If you add in LIVE training experiences, learning guides (great for coaches, or anyone that teaches something) and you now have a fabulous opportunity to share your skills, knowledge and experience and build an even closer relationship with your FB group members. 
So many people spend FB ads to promote their business products/services, but when you use Facebook groups, you can gain FREE exposure and connect directly with your customers.
Now the idea behind this particular online training is that you will set up a FB group that offers value, support and regular communication.
That's the way I set up my FB group (have over 50 free video tutorials inside) and all my private coaching groups, and I personally prefer an authentic and generous style of running my business with the aim of genuinely helping those in my group. 
FB is always changing its features, so this training will take into consideration the new feature additions, however keep in mind that there may be more features added after this workshop was recorded. 
This simple and easy to follow Online Workshop will take you on a step-by-step journey showing you how to easily set up your FB group. I am excited for you!
THIS WORKSHOP INCLUDES
You will learn the following: 

The pros and cons of setting up FB groups.
The difference and benefits of having open, secret or private FB groups.  
The importance of optimising your FB content for mobile users.
STEP-BY-STEP INSTRUCTIONS
In this step-by-step practical video training, you will be able to follow along and learn how quickly and easily you can set up your FB group. 
You will also learn: 

How to add Learning Guides (perfect for hosting challenges, videos etc).
How to add and organise your content, uploading video trainings, materials, files.
How to create events inside your FB group.
How to engage and interact with your audience (including challenges and games).
How to add admin to your group and moderators.
How to invite and add people.
How to welcome your group members.
How to promote your FB group using your URL address.
Why it's a good idea to record an introduction video and explain how to navigate inside the group.
How to use posts, polls and surveys to engage with your members.
How to use FB rooms and run live sessions.
How to view your FB group analytics.
How to recognise and reward your top 10 contributors inside the group.
EXTRA VIDEO TRAININGS:
1. How to set up FB banners that are optimised for desktop and mobile devices. 
2. How to add links in your FB banner. 
By the conclusion of this workshop, you shall have a FB group ready to open and welcome and grow a thriving and successful community!  
HOW TO GET THE BEST OUT OF THIS TRAINING
3 Steps to get the best out of this training 
Grab a

 

notebook and pen

 

and have them on hand as you are very likely to get some 'aha' moments, ideas and inspiration as you progress through this Masterclass. Write down notes as you watch and listen to the video tutorial.
Set aside some

 

specific time

 

to undertake this session, and preferably without interruptions.
Open up your FB account

 

and follow along with the instructions. 
Be sure to

 

pause the video at any time,

 

as you are far more likely to enjoy success in this area if you practice what you are learning as you work through the video workshop tutorial.
ABOUT THE TRAINER
Your Workshop trainer Trudy Vesotsky has been studying, practising and teaching on the subject of Holistic Behavioural Psychology, Personal Development and Business Coaching for the last two decades. 
Her first physical book and E-Book was published in 2009, and she has run over 100 topics in face to face workshops, so she has a lot of knowledge and skills to share with you. 
She has created over 180 digital products and online courses and her  NEW Signature course sold out for both 2022 and 2023 intakes, so if you are ready to Create and Sell Digital Products and Online Courses, click the link below. You can choose from the 8-Week Coaching Program or Self Paced Study. 
https://tvholisticpsychology.learnworlds.com/course/digital-productscourse 
OUR FB GROUP
If you would like to join a cool space for creatives and business entrepreneurs, come join our FREE FB Group. 
We have over 50 FREE video tutorials inside along with a friendly and supportive community from all over the globe ready and happy to cheer you along. 
Please be sure to answer all questions requested, or your request to join may not be approved. 
Click this link below to join https://www.facebook.com/groups/launchandgrowyouronlinebusiness
---
Share this Product
---
More from this collection