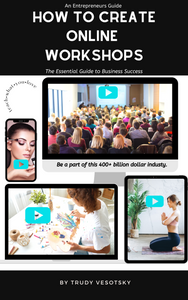 Holistic Psychology
How to Create Online Workshops - 1:1 Training
Regular price
$1,345.00
$0.00
GET READY TO CREATE YOUR ONLINE COURSE QUICKLY
Someone recently said "why would someone pay for your course of information if they can google it?"
Our answer was:
1. "Your client wants a solution to their problem, they are not looking just for random information". 
2. "You have solved a problem and have knowledge and experience in an area that can guide and support them and that is what many people need!". 
3. "People love connection and when they come to you they are connecting with a real live person that has real life results not some random information that they read on a website". 
Another person said to me "the internet is overloaded with workshops and trainings' why bother creating an online course when there are so many out there?" 
Our answer was: "Because there are also so many people out there that need something that you know".  
THIS TRAINING INCLUDES
20 minute Pre training session 
1 x hour of training with your e-creator expert
Practice recording in trainers office space (optional extra)
2 x 15 minute follow up calls
1 x Lead Magnet template 

(design editable in Canva)

1 x Course Presentation Template (design editable in Canva)

1 x Course Workbook Template 

(design editable in Canva)
WHAT IS INCLUDED AND HOW TO BOOK 
1. This Workshop is personalised to get the best outcomes and results for the client and may include video tutorials. You will be provided with numerous templates for you to be able to create lead magnets, eBooks, online course presentations and digital course workbook. 
2. Once you have purchased this training you will be set up with your first pre session coaching call to determine your exact needs. You may be provided with pre session worksheets. 
3. If you encounter any issues please email to holpsy@holpsy.com 
This simple and easy to follow process is undertaken with a combination of online modules and private coaching with Trudy.
The goal is to show you step by step how to create your your very first Mini Online Course (hopefully the first of many). All the shortcuts, writing it, recording it, uploading it and then all you have to do is sell it. 
By the conclusion of this workshop you will have the skills required to create a valuable and sellable resource to add to your business portfolio. 
E-LEARNING IS A $500+ BILLION DOLLAR INDUSTRY
E-Learning is the future.
Technology has really revolutionised teaching and learning.  In 2015 the global E-Learning market was worth an impressive $107 billion and researchers predict that by by 2025,  it will reach a staggering total market value of $500 billion.
Lectures and seminars no longer have to be confined to the classroom because people now have access to digital tools ranging from mobile devices, virtual learning systems to online courses.
There is an enormous demand for online learning as it has a range of benefits to employers and employees, it is cost-effective and you can learn from any location without needing to travel. 
If you want to be a part of the $500 Billion Dollar BOOMING E-Learning Industry, you WILL WANT to purchase and work through this self paced workshop!
LIMITED SPOTS SO BOOK IN TODAY
We are currently only providing limited in person workshops to attend our Gold Coast location however we do have availability for this session to be conducted live via Zoom (anywhere around the world).
This price is for 1 person to be taken through this immersive strategy and training sessions. 
For further questions please email to use at address below holpsy@holpsy.com
Should you wish to organise an in house training (minimum of 10 persons) please email to us at holpsy@holpsy.com and we will be happy to call, have a chat and provide a quote. 
ABOUT THE TRAINER

Your Workshop trainer Trudy Vesotsky has been studying, practising and teaching on the subject of Holistic Behavioural Psychology, Personal Development and Business Coaching for the last two decades. 
Her first physical book and EBook was published in 2009 and she has conducted a diverse range over 200 topics in face to face workshops, so she has alot of knowledge and skills to share with you. 
She recently commenced putting her 120 + workshops into online training and her knowledge, skills, and the short cuts that she has acquired are now being passed on to you. 
Trudy has to date designed and delivered over 100+ digital products in 16 months and her aim this year is to turn another 20 of her face to face workshops into Online Courses with the aim of having all her workshops online by 2023. 
COME JOIN US ON SOCIAL MEDIA
We love to hear your success stories so please feel free to Click the link below to join us on Instagram.
https://www.instagram.com/holisticpsychologytv/
Much love and go get those dreams of yours and turn them into Reality!
---
Share this Product
---
More from this collection