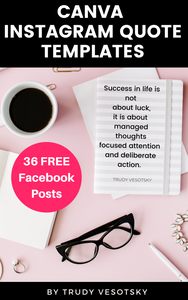 Holistic Psychology
Instagram Quote Templates eBook
Regular price
$0.00
$0.00
WHY IS THIS FREE?

People around the globe are currently experiencing changing and challenging times. 
We wanted to offer you this FREE gift, in hope that it may support you in having some ready post templates to use. Let us know if there is anything else that we can help you with and be sure to check out all the 20+ FREE resources on this website.
THE QUOTE QUEEN 
We love quotes and our founder Trudy Vesotsky is well known for being the Quote Queen.
She has been conducting workshops on a range of topics for over 30 years and there is no doubt that she loves to use analogies, metaphors and quotes within her presentations. 

Go google her name and you will find people from all over the world use her quotes in their posts, books, presentations, websites and more. 
In this FREE eBook we have on offer a total of 36 FREE Instagram size posts (be sure to also grab the Facebook size quotes book on the free stuff page) that you can use throughout your feed or in any way you like.  You are welcome to resize them to any other size and use wherever you wish. 
HOW TO EDIT THE QUOTES INSIDE CANVA 
Watch this brief 12 minute tutorial and follow along after your have downloaded your FB and Instagram templates. That's 72 FREE social media posts in total! 
HOW TO DOWNLOAD

1. This eBook will download immediately.
2. Once you have downloaded it, open it up in pdf view and click on the links inside to use the Canva templates. All instructions are inside the eBook. 
You can edit, rebrand the colours, add your details  however you must  maintain the quote author name as shown. 
These are the Template Designs available inside this eBook. 
 WHAT OTHERS HAVE TO SAY ABOUT OUR WORKSHOPS
Trudy from Holistic Psychology, has been one of the most positive influential mentors I have had in my life. Her level of expertise, care, honesty, integrity and ability to access deep wisdom and energetic information has enabled me to break-free from my own limitations in order for me to step into my authentic self. Trudy has been a significant catalyst in my search for truth and personal journey. I highly recommend Trudy's work, I wouldn't be where I am today without her guidance. – Alana Arvanitis
Trudy has been a mentor and great support for me in both my business and personal life. Her strategies and advice are fantastic and see makes the information and resources she provides fun and easy to understand. I would highly recommend working with her and enrolling in one of her courses. They are affordable and really get results. Highly recommended – Chrissy Symeonakis
I love Holistic Psychology! The meditations, the online workshops, the love and care that goes into everything that Trudy does is outstanding. I highly recommend everything and anything from this beautiful human. Thank you for changing my life. ~ Kate 
Thank you thank you for the gift of your awesome online workshops, I had never done a workshop by following a video before but I found it so easy and so informative that I could' not wait to finish Part 1 video and start on Part 2. I loved the Conscious Living workshops and didn't realise how powerful setting an intent could be and learning to manage my energy and overwhelm has changed my life! You are a blessing and thank god that I found you. I am looking forward to working through the Inner Child workshops next. ~ Jean
I have been attending Trudy's workshops (both face to face and online for over 10 years). They have supported me to go from anxiety and fear into calmness, self awareness, and I now live a more consciously aware life. I highly recommend everything that she does and offers. She comes from a non-judgemental, caring, compassionate and empathetic place and her diverse skills are probably the best that you will ever find. Thank you thank you Trudy and may you also be blessed with all the goodness that you offer to to others. ~ Mel 
ABOUT THE AUTHOR
Your Workshop trainer Trudy Vesotsky has been studying, practising and teaching on the subject of Holistic Behavioural Psychology, Personal Development and Business Coaching for the last two decades. 
Her first physical book and E-Book was published in 2009, and she has run over 200 topics in face to face workshops, so she has a lot of knowledge and skills to share with you. 
Her first physical book and E-Book was published in 2009, and she has run over 100 topics in face to face workshops, so she has a lot of knowledge and skills to share with you. 
She has created over 180 digital products and online courses and her NEW Signature course sold out for both 2022 intakes so if you are ready to Create and Sell Digital Products and Online Courses click the link below
https://tvholisticpsychology.learnworlds.com/courses
SPECIAL LIMITED TIME OFFER
** It was Trudy's (your trainers) birthday in February, so we also have a LIMITED TIME SPECIAL 80% OFF discount coupon code for our next intake 8-week program or self study option, type in the words 2023offer into the coupon area and save over $2000!**
FREE GROUP ON FACEBOOK

If you would like to join a cool space for creatives, come join the FREE FB Group. 
We have over 5+ hours of FREE video tutorials inside, along with a friendly and supportive community from all over the globe ready and happy to cheer you along. 
Please be sure to answer all questions requested, or your request to join may not be approved. 
Click this link below to join https://www.facebook.com/groups/canvaclub/ 
---
Share this Product
---
More from this collection