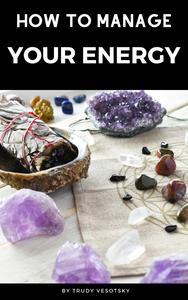 Holistic Psychology
How to Manage your Energy
Regular price
$5.00
Sale price
$66.00
THIS WORKSHOP INCLUDES

Online Video Tutorial
This tutorial runs for 1 hour 
HOW TO MANAGE YOUR ENERGY

We will discuss how you influence others energy and how they influence yours and different environment energy.
Quantum physics has proven that the whole universe is composed of energy.
Humans can exchange energy with each other just like plants do.
German researchers have discovered  and confirmed that a plant not only engages in photosynthesis, but also has an alternative source of energy: it can draw it from other plants.
Can we really absorb and transfer energy from and to other human beings?
Are we capable of pulling strength and power from other life forces – humans?
Looking at logic, we can see the connection between plants and human beings and the topic of Bio energy is certainly becoming more mainstream.
I am an Empath so I understand how I interact with energy and if you are keen to learn more, you will love this workshop.
This online workshop class was delivered Live and everyone attending has enjoyed amazing results. See our testimonials section for more feedback. 
This Session covers:
How to manage your energy
How to clear energy from your house/office
Meditation (we will conclude with an awesome and powerful meditation)
HOW TO GET THE BEST OUT OF THIS MASTERCLASS

3 Steps to Successfully Using this MasterClass
Set aside some

 

specific time

 

to undertake this session, and preferably without interruptions.
Grab a

 

notebook and pen

 

and have them on hand as you progress through this workshop. Write down notes as you watch and listen to the video tutorial.
Feel free to

 

pause the video at any time,

 

as you are far more likely to enjoy success in this area if you practice what you are learning as you work through the video workshop tutorial.
HOW TO DOWNLOAD INSTRUCTIONS
1. This Workshop involves watching a video tutorial. 
2. Once you have completed the check-out by providing your contact and payment details and completed this transaction, your file will automatically download. 
3. You will also be sent a follow-up email with the download link included. 
4. If you encounter any issues, please email to holpsy@holpsy.com 
A Holistic Approach
Our course teacher (Trudy Vesotsky) has been studying, practising and teaching on the subject of Holistic Behavioural Psychology, Spirituality, Metaphysics, Personal Development/Intuitive Development and Business Coaching for the last two decades.
Each workshop may contain a mixture of ancient and modern new age philosophies, psychological techniques as we know the value and long term benefits of working with the physical, emotional, mental and spiritual aspects as a whole.
THIS IS PART OF A SERIES
THIS 3 PART INTENTIONAL LIVING PROGRAM was conducted and recorded during a live workshop, with all participants enjoying great 'aha' moments and success. 
You do not need to complete all workshops in the series. Choose the ones of interest. 
These workshops are now on offer for you to enjoy with immediate access and download once you have clicked the buy now button. 

These workshops delightfully delve into your consciousness
IT IS TIME to give back to yourself.
Enjoy the workshop and happy conscious living beautiful soul!
Trudy & the team x
---
Share this Product
---
More from this collection