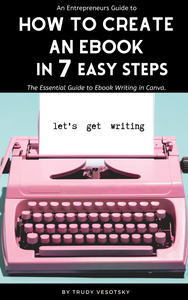 Holistic Psychology
How to Create an Ebook in 7 Easy Steps in Canva
Regular price
$64.00
$0.00
GET READY TO CREATE YOUR E-BOOK IN 7 EASY STEPS

During this Online workshop, you will be taken through 7 EASY steps to create a basic e-book using Canva. 
The aim of this course is to show you the process and support you to add to your collection of skills so that you can learn the basics, the process, and gain the confidence to write as many E-Books that your heart desires.
This simple and easy to follow Online Workshop will take you on a journey of creating an e-book Planner using Canva. 
At the conclusion of each step, you are required to take the action required and then move onto the next step.
You are basically getting your very own personal Business Coach, without the extra cost!
TOTAL VIDEO RUN TIME:
7-Step Training - 1 hr and 40 minutes
Bonus videos - 30 minutes
THE 7 EASY STEPS INCLUDE 
Step 1 - Decide on a Topic (what is your or your customer outcome). 
VIDEO TUTORIAL: 12 minute 30 seconds
discussing goals with the aim to start and finish your first of many e-books
brainstorming
walking you through your desired outcome?
one topic that you want to write about?
who is your customer and more questions? (watch the module to gain clarity)
what is the purpose of the e-book?
action step
Step 2 -  Introduction to e-book writing inside Canva
VIDEO TUTORIAL: 2 minute run time
practical exercise shown inside Canva
how to use the basic drag and drop method
action step
Step 3 - Design your Outline - chapters, activities etc (Microsoft Word or Canva)
VIDEO TUTORIAL: 9 minutes and 37 seconds run time
ways to plan out your e-book eg: story boarding

, post-it notes

chapters, contents page, and activities etc

a look inside some of Trudy's e-books
action step
Step 4 - Set up your Layout (including headings and table of content) and setting up as a Template (so you can easily create many more e-books)
VIDEO TUTORIAL: 33 minutes and 25 seconds run time
E-book sizes

how many pages

planning the sequence of your e-book

types of layouts

preparing your layout

setting up headings, table of contents, page numbers

how to set up your own template
Step 5 - Start writing and adding content and graphics
VIDEO TUTORIAL: 21 minute run time
Repurposing content

Use of fonts and graphics for aesthetics

Copy and paste from Microsoft Word

How to add URL links into your e-book 
Step 6 - Edit and proofread 
VIDEO TUTORIAL: 10 minute 45 seconds run time
editing your document

organising your document to be proofread
Step 7 - Ready to download/upload/print/sell
getting your front and rear cover into your e-book
downloading your PDF (for print quality or standard file)
VIDEO TUTORIAL: 11 minute 41 seconds run time
By the conclusion of this workshop you shall have a PDF e-book ready to use, print or sell as a digital product. 
Please note that this training is based on using desktop to create your e-book and various changes may be required to create on iPad/Phone devices. 
BONUSES:
1. How to Create E-Book Covers
VIDEO TUTORIAL: 18 minute run time
E-book sizes

do some research - book covers, genre on Amazon etc

colour, theme and title

creating your e-book cover in Canva

drag and drop graphics, wording, elements etc
2. An overview of ways and platforms that can host and sell your e-book
VIDEO TUTORIAL: 12 minutes and 39 second run time
what you can do with your e-book to suit your purpose and audience
promotional designs 
digital download platforms
3.  A copy of Trudy's 11-page e-book template
You will be provided with a copy of Trudy's 11-page e-book template. 
ADD ON
For an additional small fee, you can also purchase Trudy's 35-page comprehensive e-book template and be creating your e-book in Canva quicker and easier than ever. 
HOW TO GET THE BEST OUT OF THIS MASTERCLASS

3 Steps to Successfully Using this Masterclass
Grab a

 

notebook and pen

 

and have them on hand as you are very likely to get some 'aha' moments, ideas and inspiration as you progress through this Masterclass. Write down notes as you watch and listen to the video tutorial.
Set aside some

 

specific time

 

to undertake this session, and preferably without interruptions.
Open up your

 

Canva account

 

and follow along with the instructions. 
Be sure to

 

pause the video at any time,

 

as you are far more likely to enjoy success in this area if you practice what you are learning as you work through the video workshop tutorial.
ABOUT THE TRAINER
Your Workshop trainer Trudy Vesotsky has been studying, practising and teaching on the subject of Holistic Behavioural Psychology, Personal Development and Business Coaching for the last two decades. 
Her first physical book and E-Book was published in 2009, and she has run over 200 topics in face to face workshops, so she has a lot of knowledge and skills to share with you. 
She has created over 100 digital products and online courses and her NEW Signature course sold out for both 2022 and 2023 intakes so if you are ready to Create and Sell Digital Products and Online Courses click the link below
https://tvholisticpsychology.learnworlds.com/course/digital-productscourse 
FREE CANVA CLUB GROUP ON FACEBOOK

If you would like to join a cool space for creatives, come join the FREE FB Canva Club Group. 
We have over 5+ hours of FREE video tutorials inside, along with a friendly and supportive community from all over the globe ready and happy to cheer you along. 
Please be sure to answer all questions requested, or your request to join may not be approved. 
Click this link below to join https://www.facebook.com/groups/canvaclub/
---
Share this Product
---
More from this collection